Co-creating a world-first Carrier Ethernet service over Telstra's mobile network
---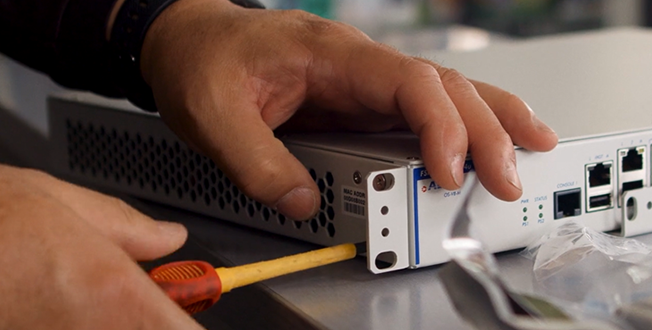 Working jointly with our partner ADVA, Telstra Wholesale has delivered a world-first engineering feat. Offering Rapid Mobile Activation and Mobile Backup capabilities on our Ethernet Access service is at launch a globally unique solution, providing game-changing possibilities for our customers and their end users. In this article, we explore our partnership with ADVA in co-creating the solution and consider the technical challenges we overcame to bring the solution to market.

We all know the joy of receiving a parcel or a service ahead of schedule, the feeling when our expectations – which are always getting higher – are surpassed. It is not traditionally a common feeling in complex telco fibre projects where planning and physical works often cause timeframes to span weeks or months rather than days. However, at Telstra Wholesale we have been steadily improving this situation through our investments in mobile-enabled capabilities.
"We are always looking to solve customer challenges, and quicker delivery for fibre services was at the top of most customers' wish lists. Innovations that provide speed to market and service reliability benefits without too many hassles are key requirements from our Layer 2 Ethernet Access fibre customers," Crispin Apostol, Product Manager at Telstra Wholesale said.
Using part of the Telstra Mobile Network, Rapid Mobile Activation helps accelerate service delivery, while Mobile Backup offers increased service availability.
"A Service Provider may purchase a mobile service independently and create their own tunnelling solution to deliver their value-add services to their end customers using a mobile access point. However, by doing so, the Service Provider encounters significant challenges on many fronts including network scalability, reliability, security, device/mobile SIM management and cost certainty," said Crispin. "We know from extensive feedback from our customers who operate and maintain their own IP MPLS networks that they want a simple, integrated Layer 2 Ethernet Access solution through Telstra Mobile, eliminating their pain points and allowing them to focus with their business".
However, it was not as simple as bolting a pre-built capability onto Ethernet Access.
"Ethernet Access is a layer 2 solution which provides great flexibility for service providers," John Jones, Senior Solutions Consultant at ADVA, explained. "Creating a simple solution using both fibre and mobile access types meant the need to do some clever under the hood engineering."

Product Manager, Crispin Apostol explains the benefits of Ethernet Access with Mobile Backup and Rapid Activation.

Co-creating with ADVA
"What we were trying was unique," said Euan Cottee, Senior Network Engineering Product Owner who worked with Muhammad Ali Assad, Senior Network Engineering Chapter Lead to lead the Telstra technical strategy and engineering effort. "There was no reference architecture anywhere in the world. We had to take a collaborative, iterative approach where we could work in close partnership with network equipment experts."
This is where ADVA came in. As a partner for many years, ADVA works with Telstra Wholesale to provide the building blocks for tomorrow's networks.
"When the Telstra Wholesale team approached us with their problem statement, we were starting from the very beginning," John said. "There was no off-the-shelf carrier-grade solution. We could reference other solutions elsewhere in the world that allow you to deliver layer 3 services over fibre or over wireless, but Telstra Wholesale wanted to position the end solution as an Ethernet service. That added complexity, but if we could create a simple solution, it would be a very powerful proposition."
In what was very much a collaborative effort, the team began workshopping possible solutions and developing prototypes.
"It is a great example of collaboration. We were working together in a lab environment, not just on paper, prototyping the optimal solution" Euan said.
It was essential to emulate a transparent carrier grade Ethernet Access service over the mobile network, which is traditionally IP-based connectivity. With the global technology leadership and innovation provided by ADVA, we worked together to create a scalable tunnel solution through the IP network to provide carrier grade Ethernet. The Network Termination Unit (NTU) has the smarts and provides the processing power to do the encapsulation. It interfaces with both the primary fibre access and the mobile access. It provides automatic failover from fibre to mobile (or vice versa) offering a near seamless experience for our customers.
Proof of Concept to a finished product
The product was developed iteratively with significant input from customers, initially in a lab, then within controlled situations and then as field trial services deployed into customer sites. The solution was designed to be capable of being self-installed by the customer, potentially helping to speed the deployment of the solution.
Despite the technical challenges, the team achieved its goals. "What Telstra is now able to do is to encapsulate traffic and then, in the core Telstra network, they're undoing that," John said. "They are reversing that magic and presenting it as Layer 2. We make it simple for customers: you put an Ethernet frame in, and you get an Ethernet frame out.
Benefits realised
"Through our extensive development and testing with ADVA, we delivered a simple but very powerful Layer 2 Ethernet Access solution that can automatically switch from mobile to fibre," said Crispin Apostol. "This means the Ethernet Access service can be provided quickly while the fibre is installed at the customer's premises. This enables the service provider to start systems integration and offer their value-add services sooner, achieving faster overall delivery times."
And because the Mobile and Fibre services share a common UNI interface, the end-to-end experience is easier for everyone. Service providers can deliver flexible solutions with built-in high-grade security and multiple redundancy options.


"Customers generally want their services as soon as possible, "John said. "They're used to everything else being instant, but the minute they go to get their telecommunications services, they hear it might take months to get the civil works done to get fibre in the ground. With Rapid Mobile Activation, Telstra Wholesale have led the way in bringing service delivery into line with customers' expectations. And we're delighted to have helped bring their vision to life."
You can read more about Ethernet Access with Rapid Mobile Activation and Mobile Backup here.