Cutting service delivery times down to size with rapid activation for Ethernet Access
---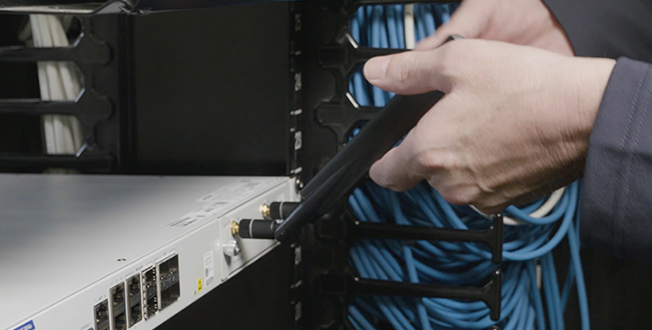 We live in a time of unparalleled convenience. From streaming favourite shows to getting dinners delivered to the doorstep, consumers demand and value immediacy.

Traditionally, telecommunications and infrastructure work on a different timetable. Provisioning new fibre services is not as simple as flicking a switch. It often requires physical works and truck rolls. Yet business customers increasingly share the same expectations of immediate service as consumers.


How Rapid Mobile Activation helps service providers
With Rapid Mobile Activation for Ethernet Access we aim to help service providers bridge the gap between your end-user expectations and provisioning realities.
As a service provider, you can place orders and start to provide services faster, thanks to the power of our mobile network. You simultaneously order the fibre service and a mobile service, and can have the fibre / LTE network termination unit in your customer's business with the mobile service activated in as little as 8 working days. The mobile and fibre services use the same network termination unit so once the fibre is ready, it's quick and easy to switch your customers over. Then, the mobile service becomes a backup.
Ethernet Access with Rapid Mobile Activation cuts service delivery time from several weeks to a matter of days. Once Ethernet Access Rapid Mobile Activation is activated, you can deliver your value-add services (e.g. Internet, VoIP, VPN etc). As a service provider, you're able to get your customers connected faster and start generating revenue sooner.
Trialling the service
Exetel has been trialling Ethernet Access Rapid Mobile Activation. James Linton, Director at Exetel, explains why the capability is so important.
"There has been a shift in customer behaviour. We frequently have customers moving premises or setting up new sites at short notice," James said.
"There's a tendency to think about connectivity as just another utility which can be switched on when you move in. However, the average time for a new fibre service delivery is 55 days and the NBN can be twice that. Ultimately, customers just want their service as fast as possible. They don't want to wait or use a hotspot that doesn't deliver the performance or reliability they need for running their business."
Up to now Exetel has been deploying other interim services to get customers online while they wait for the fibre to be provisioned. However, this has its limitations.
"We have been putting in NBN TC4 services as interim measures. However, that creates more complexity from a networking perspective. We have to return to the premises to do more work when the fibre is ready. The second problem is that some interim services are not suitable for some business critical applications like VoIP or video conferencing."
"Rapid Mobile Activation is a much better solution. There is one box to put in and very little for us to do when time comes to switch to the fibre link. There's very little disruption to the service and customers can use their full range of applications without concern for the quality of the connectivity."
"Our customers have been very happy to have a fast, reliable service up and running quickly, and they like the seamless switchover to the fibre service. With Rapid Mobile Activation, Telstra Wholesale has set a new standard for business ethernet fibre services setup."
Once the fibre service is in place the mobile service becomes a backup, so if there's ever an outage on the fibre service our customer continues to have layer 2 connectivity albeit at a slower speed than their primary fibre service. James Linton adds, "On the services we've trialled, most customers have hardly noticed that their connection has changed to the backup."

Available from May 31st, 2022
Ethernet Access with Rapid Mobile Activation is available from May 31st. Telstra Wholesale customers can order services through Quote2Activate or LOLO - and if you need any support, please contact your account manager.