New research reveals how your small/medium business customers are making their ICT buying decisions
---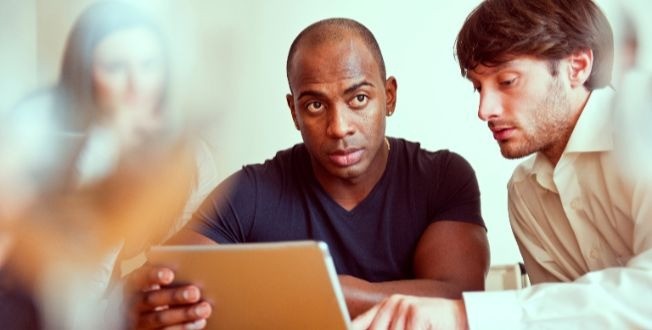 Market analyst firm IDC recently surveyed small and medium sized businesses (SMBs) across Australia to uncover their attitudes towards buying technology and networks. To find out how these attitudes could affect Telstra Wholesale customers, we spoke to:
• Sabhari Bala, Senior Research Manager at IDC;
• Stuart Dickinson, Director and General Manager of DXC Oxygen part of DXC Technologies and the leading specialist SAP solutions company in Australia and New Zealand; and
• Glenn Flower, GM Marketing at Telstra Wholesale.

What are SMBs buying?
Digitisation remains the priority for investment. "Nearly half of SMBs in Australia have digitised and already rely on cloud infrastructure, apps, and platforms for their business operations and strategy. We expect this to increase to over 80 per cent within three years" Sabhari noted.
Cloud technology is central to these organisations' strategies. IDC found that two-thirds of Australian companies strongly believe that cloud access is the most important technology to enhance their competitive positioning. Yet the trends in the mid-market segment show that SMBs are taking a holistic look at their ICT environments after a prolonged period of investment in cloud services, applications and platforms.
"Almost overnight we saw the proliferation of cloud-based services to do almost anything a business needed. SMBs went through a phase of buying individual digital tools for particular business functions, leading to a situation where companies had all these different applications and they didn't always work well together. In order to deliver a consistent customer experience across all parts of their business, SMBs are now looking at how they integrate all these elements together," said Stuart Dickinson of DXC Oxygen.
Untangling muliple clouds
"Cloud-based services are still a big part of the mix, but many organisations have already made a lot of investment in this area over the past couple of years," Sabhari said. "Cloud adoption started to gain pace in 2012 and quickly reached a tipping point at which SMBs were moving many, if not all, business critical applications into the cloud."
With the bulk of IT services now being delivered from the cloud, SMBs are turning their attention to integration and connectivity - another key area of investment identified by IDC. "Organisations large and small are realising that they need to ensure they have modern, robust foundations in place to support their digital strategies," Sabhari said.
"Typically, smaller companies used public networks. Now they understand the critical nature of business performance. Only private, dedicated connectivity delivers the required quality," Glenn Flower, Telstra Wholesale
In one example, Stuart noted that the rise of digital market places, such as eBay and Amazon, are creating great opportunities for SMBs to grow their business. Yet they also come with more significant end user expectations in terms of ordering and fulfilment processes, requiring businesses to deliver the same customer experience as order volumes scale up. This in turn places a greater strain on the back-end systems.
And as customer experiences are upgraded, system performance needs to upgrade too. As Glenn Flower of Telstra Wholesale explained, "Typically, smaller companies used public networks and public networking infrastructure for connectivity. Now they understand the critical nature of application performance for business performance. Only private, dedicated connectivity delivers the required quality of user experience."
AI is next on the shopping list
IDC's research also shows businesses' growing interest in cognitive and artificial intelligence technologies. "Businesses of all sizes recognise the potential impact that these technologies might have in enhancing customer experience, improving employee productivity, driving new operating models, and increasing the company's competitiveness," Sabhari said.
Increasingly, companies are looking to leverage third-party platform technology – cloud, mobility, big data, and enterprise social, as well as the new wave of 'innovation accelerators' such as IoT, AI and blockchain - to drive digitised growth. Stuart Dickinson says: "Larger businesses might have more resources to dedicate to such programs. They are deploying management platforms that help tie in all these different solutions and make them work effectively together," while Sabhari notes that the lack of legacy IT in smaller businesses can help make it easier for them to collaborate with leaders in these fields.
Investment levels in real terms
IDC's research also provides a snapshot into the current market conditions. Sabhari adds: "There is a strong inclination to make investment in technology that will help understand customers, improve experience and improve decision-making. Smaller businesses are driving the growth, with their average spend increasing by 21 per cent. We are looking at an average range for annual expenditure of $155-165K."
Challenges for SMBs are evolving too
One outcome of the investment in digitised IT is that organisations have ended up using multiple services from various different providers. IDC estimates that small businesses use between two and five service providers while mid-sized businesses have up to 8 technology providers meeting their needs.
The fragmentation of IT has created its own problems for businesses. "There are silos within organisations, each using different services or technologies. Our research suggests that integrating these different services is now a greater barrier to businesses digitation strategies than the perennial security worries," Sabhari said.
SMBs: looking to their providers for guidance
Stuart also pointed out that IT leaders and teams can sometimes feel the pressure to use the latest application or digital service. "There are definitely cases where people go for the 'flavour of the month', whether that's a collaboration app or cloud storage. There are hidden costs from repeatedly switching because you lose the repository of information accrued in a particular app. It's less important which app you choose than it is to pick one, ensure usage is widespread within the organisation, and then stick with it," he said.
Technology providers that serve this market need to be aware of these trends and respond accordingly. "As SMBs become more sophisticated when it comes to technology, understanding what decisions they are buying, and importantly why they are making those decisions, will help providers shape and sell solutions that address genuine business needs to bolster long-term relationships and provide commercial success," Glenn concluded.

About IDC's Mid-market Dynamics research:
IDC's Australia SMB study focuses directly on small and medium business' attitudes to buying their technology and networks. It was part-funded by Telstra and conducted at the end of 2017, with 1065 businesses across Australia, varying in size from 10-499 full time employees.
About DXC Technology:
DXC Technology (DXC: NYSE) is the world's leading independent, end-to-end IT services company, serving nearly 6,000 private and public-sector clients from a diverse array of industries across 70 countries. The company's technology independence, global talent and extensive partner network deliver transformative digital offerings and solutions that help clients harness the power of innovation to thrive on change. DXC Technology is recognized among the best corporate citizens globally.
DXC Technology, through its Oxygen practice, is the leading specialist SAP solutions company in Australia and New Zealand. DXC Oxygen is a certified SAP services partner and a gold SAP channel partner and has achieved Partner Centre of Expertise certification from SAP. Since 2004, DXC Oxygen has been a consistent winner of SAP "Best Implementation" awards.
For more information, visit dxc.technology.