Technology transformation: ICT market dynamics in 2021
---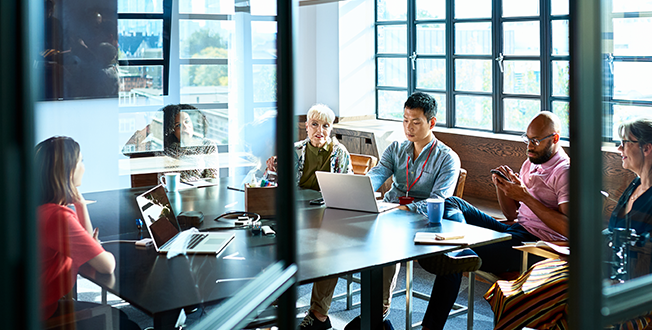 The COVID-19 pandemic has had several effects on the Australian ICT market, and as the pandemic unfolded, we at Venture Insights modelled several scenarios. One piece of good news from this year is we didn't see our worst-case scenario play out.
In fact, looking at the overall economic level, 84% of enterprise telco spending was in sectors relatively shielded from the effects of the pandemic, including communications, media and business services, government and financial services.
Spending in these sectors was insulated from the worst, either because the lockdowns didn't affect these businesses as much as other sectors, or because their usage of telco services increased as they put greater reliance on digital channels and working from home.
However, if we dive deeper into the data, there's a lot of nuance and detail in terms of the effects on industry verticals and technologies. For example, overall spending on connectivity went down as connections, connectivity renewals and hardware spending all decreased. Instead, IT spending shifted to network management platforms, cybersecurity and collaboration tools and services to support remote working.
The massive expansion of working from home has accelerated a shift to new ways of working, which has a number of consequences for service providers.

New ways of working and the search for efficiency
Our research found an accelerated transition to a new structure of ICT demand, particularly for SMBs.
Traditionally, demand within this segment was dominated by connectivity. Now, more businesses are taking an application-centric approach to services and seeking greater value and performance to support their new ways of working.
There is also growing dissatisfaction among SMBs with 'consumer-plus' products and an appetite for business-grade services. Our data shows the top technology issues SMBs grapple with — cybersecurity, slow and unreliable broadband, and keeping pace with technology changes — have not changed. However, the effects of the pandemic have made resolving them more urgent.
The shift to remote working has also seen businesses search for ways to improve their efficiency through digitalisation. The SMB community is becoming more aware of the potential for digitalisation to help them improve internal productivity as well as work better with suppliers and vendors. This is an area where we see a significant market opportunity for service providers. In fact, our research has found that adopting smart technology to improve business efficiency is a top priority for SMBs in the next 3 three years.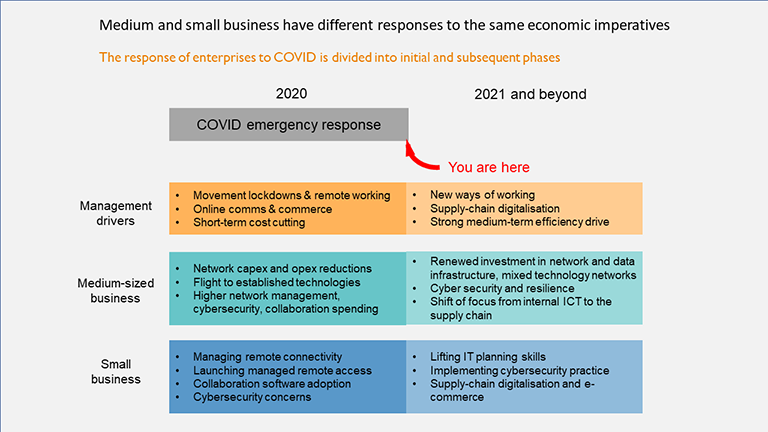 Turning to next year, the short-term imperatives of 2020 are being superseded by medium term demands.
We predict medium-sized businesses will place renewed emphasis on data infrastructure, investing in capacity and resilient networks for the future, as well as in managing their connectivity.
Many smaller businesses are likely to undertake systematic ICT planning for the first time to address issues such as managing remote access, integrating collaboration software or implementing a robust cybersecurity strategy.
Businesses that succeed in 2021 will be the tougher, more prepared businesses who have planned their ICT and will continue making investments.
The good news for service providers is SMBs, even at the smaller end of the market, recognise the importance of investing in quality services. 82% say network performance is important while only 47% say the same about price.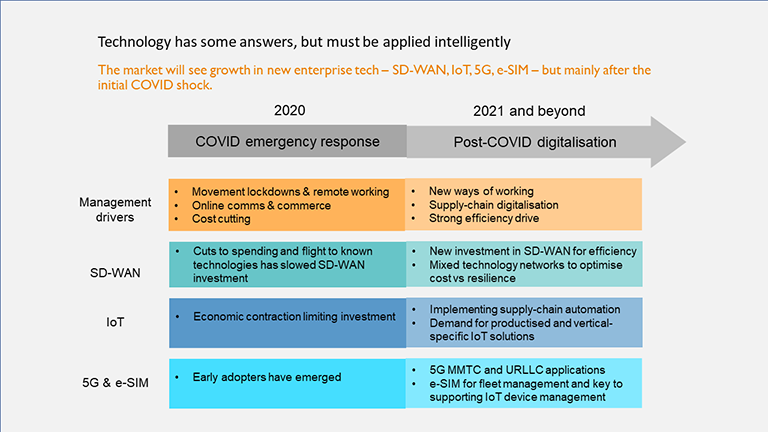 We expect infrastructure spending to come back strongly in 2021 with growth in new enterprise network technology and increasing investment in SD-WAN.
While Internet of Things (IoT) investment contracted in the response to COVID-19, strong interest in supply chain digitisation and automation will drive spending. The demand is there among SMBs for productised and vertical-specific solutions, which are easier to implement and realise value from than bespoke solutions.
The growth of the IoT market will also see eSIM adoption increase. As businesses deploy multiple smart devices in supply chains or in customer-facing applications, eSIM will be a vital means of activating services, managing profiles and switching providers.
The challenge and opportunity for RSPs
The greatest opportunity for service providers is in becoming true partners to their SMB customers. Our data shows SMBs have a gap between the skills and technology they have, and what they need.
The service providers that succeed will combine deep vertical expertise and skills, with an understanding of how productise and modularise solutions for the specific needs of those verticals.
Such an approach requires a fully digitalised service stack with the platform and customer experience skills to make it easy for small and medium-sized business to take up new technologies.
Seizing these opportunities will mean service providers can thrive as the market evolves once again in 2021.