Key benefits of Telstra InfraCo Data Centres
---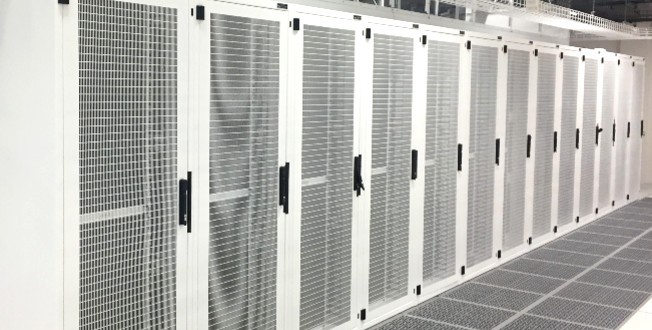 The latest product from Telstra InfraCo offers resilience, security, flexibility and a unique proximity to Telstra's networks
Telstra InfraCo has launched a new colocation offering hosted in Telstra InfraCo Data Centres. This is Telstra InfraCo's next product after Dark Fibre, continuing our mission to give customers access to the same infrastructure and assets as Telstra.
The Australian data centre market is growing rapidly as organisations of all sizes accelerate their adoption of cloud computing. With this growth comes a much greater sophistication that places additional demands for scaling and flexibility. Australian cloud spending is predicted to increase to US$17bn by 2024, a compound annual growth rate (CAGR) of 13%1. This growth, driven by spending on software-as-a-service and Infrastructure-as-a-Service, is contributing to the Australian data centre market's expected CAGR of about 4.5% between 2021 and 2026.
Telstra InfraCo is helping meet the demand by opening our Clayton, Melbourne and St Leonards, Sydney data centres to customers. While Telstra data centres have previously been available to customers taking a Telstra service, Telstra InfraCo Data Centres will be carrier neutral, meaning any carrier can terminate into a Telstra InfraCo Data Centre.
Resilience, security and flexibility
Our St Leonards and Clayton data centres are the same facilities Telstra uses for its own operations. They are highly secure, reliable, and flexible environments and located close to the city CBDs. The facilities offer peace of mind, with a 100% power availability target, supported by sophisticated multi-grid high voltage feeds, driving multiple power planes each with multi-UPS systems to provide exceptional rack-power redundancy. We provide 24x7 security onsite and CCTV monitoring, supporting customer access and equipment delivery.
We offer a variety of deployment options for customers' cabinets and power. And our high-power densities enable customers to scale without the need to re-configure the powering requirements supporting big data analytic services and peak workloads.
Our InfraCo Data Centres also provide a set of advantages for customers only Telstra InfraCo can offer.

Proximity to our networks and services
Colocation at a Telstra InfraCo data centre makes it easy to take advantage of Telstra's data IP, SIP, Transport and mobile networks. Our data centres are integrated into the Telstra fibre network with connections to NBN points of interconnect. The flexibility of the connectivity networks extends to undersea cables, facilitating multiple international gateways.
This proximity enables customers to optimise their network with simpler design and shorter paths. As a result, network operators and internet service providers (ISPs) can reduce the cost of deploying their network, deploy it faster, reduce management complexity and improve performance.
Furthermore, it is quick and efficient for customers to set up and consume value-add services and products if they so desire. Whether it's the InfraCo Dark Fibre product or a wholesale internet or access product, customers can benefit from the full stack of Telstra's services.
Partnership with a trusted Australian institution
Data centres play a vital role in complying with data sovereignty laws and privacy regulations. At a time when the rules governing data use, location and transmission are under review, organisations want to be confident they can continue to meet any requirements for data residency as requirements change.
Customers can be confident in partnering with Telstra InfraCo for the long term. Our heritage is proudly Australian. We have a long track record of working with the Australian federal government and leading enterprises to meet their data, networking, and security needs. Likewise, our data centre team is composed of leading industry experts with decades of experience in the sector.
Our environmental commitment
InfraCo data centres are very much a part of Telstra's overall sustainability plans. Telstra is proud to have become carbon neutral in 2020, with further ambition to enable 100% renewable energy generation equivalent to our own consumption by 2025. These plans mean we will own or contract renewable energy generation equivalent to 100% of the energy we consume in all of our operations including our data centres.
A relentless focus on customer experience
At Telstra InfraCo, we are committed to delivering great products with great customer experience. We have designed our data centre offering to make it easy to use, on the customer's terms. Users will be able to request to add capacity, check service status, manage billing and do many more functions through an intuitive self-service platform. It makes managing the service easy and saves time that might be otherwise spent dealing with account teams for daily administrative tasks.
The future of colocation
Bringing colocation in Telstra InfraCo Data Centres to market is only the first step in our vision for data centres. We will continue to develop the product to incorporate customer feedback and add more value.
If you would like to learn more or arrange a tour of our facilities, please contact your account manager, or fill out the form below.