Sub-sea cables: Supporting our data habit
---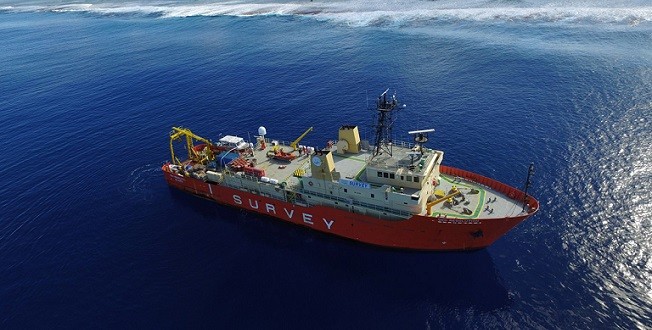 How subsea cable systems will help deliver the next wave of digital experiences
In 2008 a British newspaper ran an article warning that "The Web could collapse as video demand soars". Experts cited an estimate that YouTube consumed as much bandwidth in 2007 as the entire Internet did only seven years before, when they speculated that the Internet would not cope with the growing hunger for video streaming on-demand. To put that in context, in 2006 YouTube attracted 20 million visitors per month. Today more than 1.9 billion logged-in users visit YouTube each month, watching over a billion hours of video every day, and uploading four hundred hours of video every minute.
YouTube is just one example. Whether it's a billion users uploading photos to Instagram, people at home watching Netflix on four different devices, families video calling relatives on the other side of the world, or gamers live-streaming their sessions on Twitch, the way we now create and consume content has played a large role in driving 40 per cent compound annual growth in data traffic.
New, immersive (and data-intensive) experiences
The trend is set to continue as new forms of entertainment and communication move to the mainstream.
Interactive on-demand TV such as Netflix's Black Mirror program, virtual reality, augmented reality and mixed reality experiences are all set to become more common. Picture quality will also improve. While HD content on Netflix is estimated to use three gigabytes per hour, 4K streams will consume up to seven gigabytes an hour.
The demand for data ramps up even further with other forms of entertainment. Augmented Reality content requires bandwidth of upwards of 100 megabits per second with as latency as low as one millisecond. For 360 degree in so-called 'retinal' quality (where the eye cannot discern the pixels on an image), the bandwidth demand is six times higher. If senses in addition to sight and sound are added to virtual reality, such as feel, smell, temperature, etc then the data requirements would be even larger.
Another area where speed and latency are increasingly vital is gaming. There are over two billion gamers around the world, and 700 million play online games. That's compared to 135 million Netflix subscribers. These gamers want a good online experience, which typically requires latency of less than 80 milliseconds.
And while many current online games don't use high levels of bandwidth, there are several factors that increase the pressure on networks.
The first is where players live stream footage of themselves on platforms such as Twitch. The second is the advent of game streaming services. In March 2019, Google launched Stadia, a cloud gaming service that enables users to stream games to their phones, PC, tablet or TV. The third factor is the increasing use of VR and AR for gaming, with all the intensive data usage described above.
We shouldn't ignore the vast amount of data that producers also consume in the background. For example, Supercell, the creator of the popular Clash of Clans game uses analytics to scrutinise 45 billion in-game events and 10 terabytes of data every day to help improve its products.

Channelling content from producers to consumers around the world
Network performance is critical for these experiences given that content is often produced in different countries or continents from where it is consumed. This is where subsea cables come in. They are a critical but often overlooked part of modern infrastructure that carries data from producers to consumers around the world.
Organisations including Telstra have collectively invested billions of dollars in upgrading cable networks. In the 1980s, co-axial cables could carry 1,000 simultaneous voice calls. In 2019 optical cable capacity is measured in Terabit/sec but, to compare with the 1980's, today's technology can be equivalent to about 200 million simultaneous phone calls per fibre pair. (No typo, that is about 200,000 times more capacity). And a modern cable might have two, four or six fibre pairs, providing greater bandwidth and a longer life-span.
In addition to investing in the cables themselves, the consortia that own and manage cables go to great lengths to choose the correct routes. While choosing the shortest path improves the speed of the connection, natural hazards such as earthquakes and man-made ones in the form of ship's anchors can sever cables and cause significant disruption. Redundancy is vital to resiliency and business continuity for carriers and OTT players. Telstra invests in multiple cable routes totalling 400,000 kilometres to ensure that if one cable has an incident, there's likely to be backup options to keep the data flowing around the world. Some of our notable cable investments include:
Telstra's assured availability "Always On" service
Our "Always On" service is a world-first offering that offers rapid restoration service to key routes in Asia within minutes. Available on three of Telstra's intra-Asia routes between Singapore, Hong Kong and Japan, the service will be able to reroute customers impacted by potential damage to another subsea cable path on our three path network in less than 30 minutes, made possible by the vast scale and diversity of Telstra's subsea cable network.
Telstra Endeavour
Our wholly-owned Sydney to Hawaii link supports data transfer from the US to Australia. Endeavour follows a safe route with deep water going down to 5000 metres. There have been zero faults on Endeavour since its launch 10 years ago, but we still support it with diversity on alternative cable systems and cable stations. Furthermore, Telstra has the ability to leverage our stakes in other cables and take a circuit to Mainland USA.
Indigo West
This is the fastest connection from Perth to Singapore, capable of 36Tbps data transfer. It will complement and eventually replace the SeaMeWe3 segment 3, SeaMeWe3 is routed through the Sunda Strait, a shallow water passage near to numerous volcanoes, including Krakatoa.
Indigo West is routed further north to get a safer route and avoid some of the intensive fishing traffic. The cable has also been buried to help reduce the likelihood of disruption.
The INDIGO West cable will connect to Telstra's extensive terrestrial network to provide onward connectivity around Australia. Once complete, the cable system will strengthen links between Australia and fast-growing South East Asian markets by providing faster speeds and dramatically improved reliability.
Hong Kong Americas and Pacific Light Cable Network.
Telstra has a half fibre pair investment in the Hong Kong Americas (HKA) cable and a six terabyte capacity purchase in the Pacific Light Cable Networks (PLCN) cable. Both cable networks are due to be completed in 2020. The two cables will deliver lower latency by virtue of being more direct routes between the US and Asia than the current Asia-America Gateway (AAG), on which Telstra operates the most active capacity today. The investments reinforce Telstra's network leadership in the Asia Pacific region and represent a significant boost for connectivity between the United States and Asia.
Southern Cross NEXT
Scheduled for completion by end-2021, Southern Cross NEXT will be a high-capacity express route, providing data-centre connectivity between Sydney, Auckland, and Los Angeles. Given its design and route, it will be the lowest latency path from Australia and New Zealand to the United States, an important route to Telstra's business as US to Australia traffic accounts for more than 80 per cent of all Internet traffic to Australia. Telstra is investing in a 25 per cent stake in SCCN and substantial capacity on both the existing network and the new Southern Cross NEXT subsea cable, building on our existing footprint in Asia Pacific and creating a critical new path for 'Australia In' and 'Australia Out' connectivity.
Ready for the next phase of data growth
Despite the phenomenal growth in data consumption, the Internet did not collapse in 2008. And thanks to the continuing investment in global sub-sea cable systems such as Telstra's, we will all continue to enjoy our video and gaming services well into the future.