InfraCo Dark Fibre: more solutions than you can imagine
---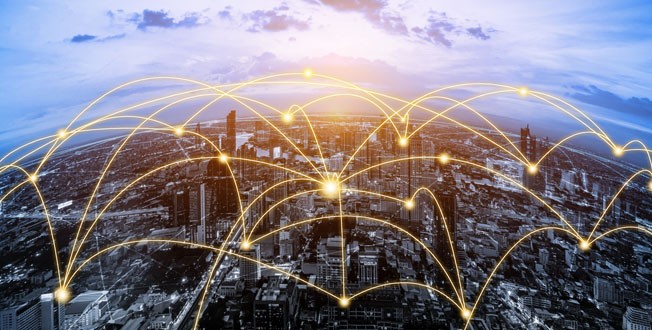 We are enhancing and expanding our ultrafast fibre network, enabling enterprises and service providers to take greater advantage of our Dark Fibre solutions.
High performance, highly resilient connectivity is crucial when you're dealing with large volumes of data, and confidential or time-sensitive traffic. As organisations understand the importance of their networks to their business operations and become more sophisticated in how they want to manage their networks, demand for dark fibre is increasing.
If you're looking for total control of capacity and performance of your network, dark fibre is the answer. It gives you more control over the different elements of your network architecture, enabling you to design it according to your needs and requirements. You can also choose when you want to upgrade that equipment and have more choice over security measures such as encryption.
With a growing number of data centres and co-location facilities, there are increasing options to choose from to create diversity in your network. Some of our customers have three to four different diverse paths between sites, using various technologies and carriers. For instance, you might utilise different wavelengths or latitude names while coupling managed products with un-managed products.
Building the fibre network of the future
We are continuing to invest in and develop our Dark Fibre products to support enterprises and service providers. In 2021, we started offering Dark Fibre on 250 predefined routes. Our routes included data centre to data centre, data centre to NBN POI, and NBN POI to NBN POI. After the success of the initial product, we swiftly deployed a POI Ring offering, introducing multiple data centres and NBN POIs linked in metro rings.
Fast track to today's offering, which includes data centre to premise and premise to premise connectivity and you can see how your dark fibre options have expanded considerably.
We have exciting plans for our dark fibre, particularly in relation to non-premise connectivity (i.e. connecting assets other than buildings). The key to unlocking this new world of connectivity is infrastructure. We're building a network that will connect all the external sites in your city, from traffic lights and street cabinets to pits, poles and lampposts. Connecting external, non-premise sites and street furniture enables us to open up a range of Internet of Things opportunities for innovative businesses and service providers, including smart city applications.
Expanding and enhancing Dark Fibre
In the coming months we plan to add new cities and more national predefined paths. We will include Wollongong, Sunshine Coast, Newcastle, and another 250+ predefined metro paths by June. In addition, we have added 20+ new paths and 15+ new sites.
As a leading provider of high-speed bandwidth services, we're always looking for ways to improve our network. With the launch of our new Intercapital ULL Express 16 dB/km and Longhaul Foundation replacement 18 dB/km dark fibre products, we're doing just that. We are building these new intercapital networks which will be available in FY24.
Our standard metro or city path lengths of up to 100 km, but if you want to go further choose a multi-hop path. If necessary, you can also use these multi-hop paths as part of a longer Metro-City path. They will enable you to choose from a full suite of service options for your business—from dark fibre BYO amplification to dark fibre with managed services, dedicated managed transmission and wavelength.
All our enhancements and expansions are built on our proven fibre expertise and our existing network of over 250,000 kilometres of cable reaching over 130 data centres, all 121 nbn POIs, and offering extensive diversity options. While we are creating robust infrastructure to meet the challenges of the future and, we are excited to see what you achieve with it.