10 Hot Consumer Trends 2019
---
Click to open infographic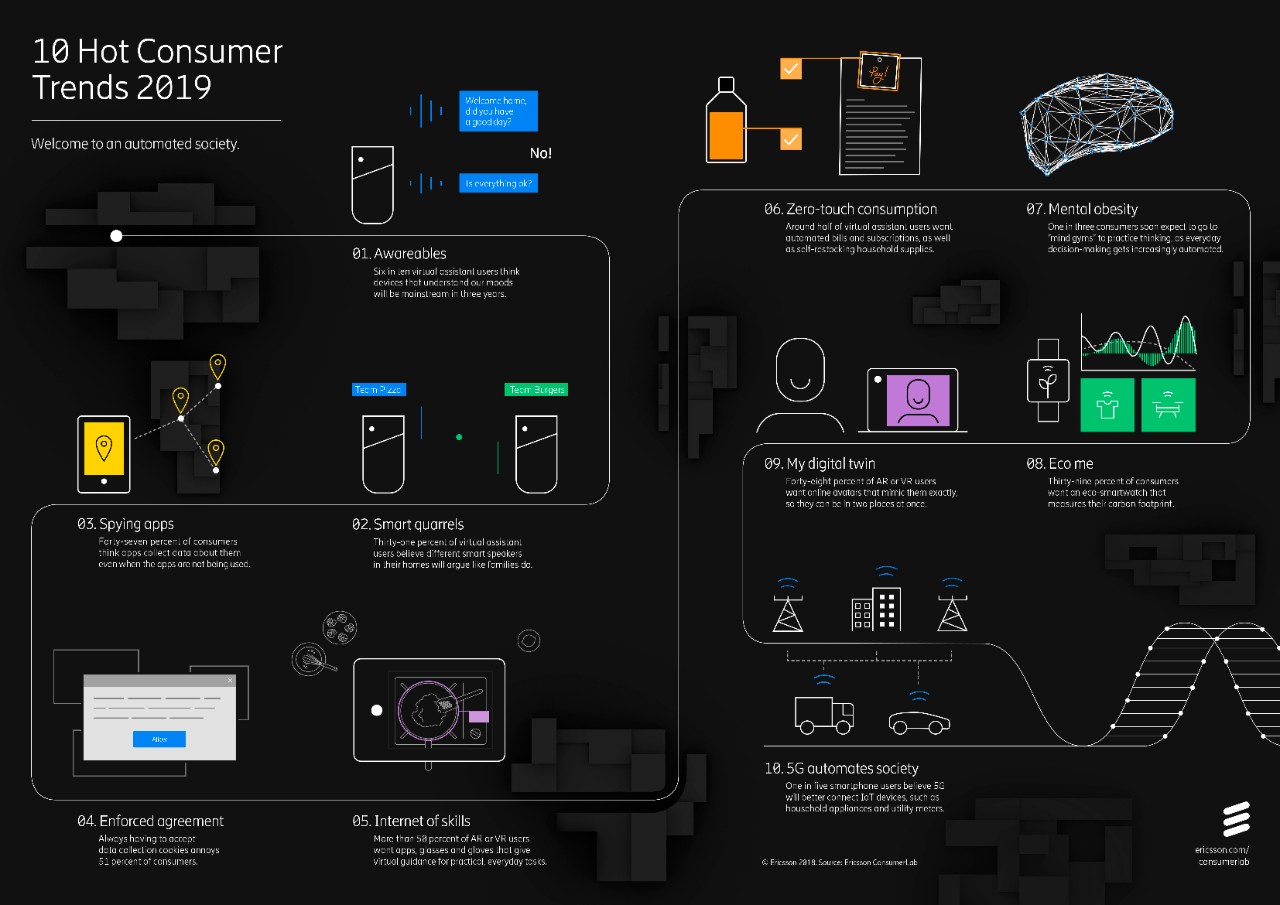 Every year, Ericsson ConsumerLab releases the consumer trends to watch for the year to come. The 10 Hot Consumer Trends 2019 report is the eighth edition of this insightful study, representing views of 34 million early technology adopters.
The report evaluates consumer thoughts and predictions on near-future technology including Artificial Intelligence (AI), Virtual Reality (VR), 5G and automation.
This year it has revealed that autonomous and mood-predictive technology could soon play a bigger role in people's everyday lives.
Today, our smartphones already know us and some will unlock just by looking at them. With the advent of AI, very soon our devices may also understand our personality just by looking into our eyes. According to the report, technology adopters see a future where our devices will know us scarily well.
Here are Ericsson's 10 Hot Consumer trends for 2019.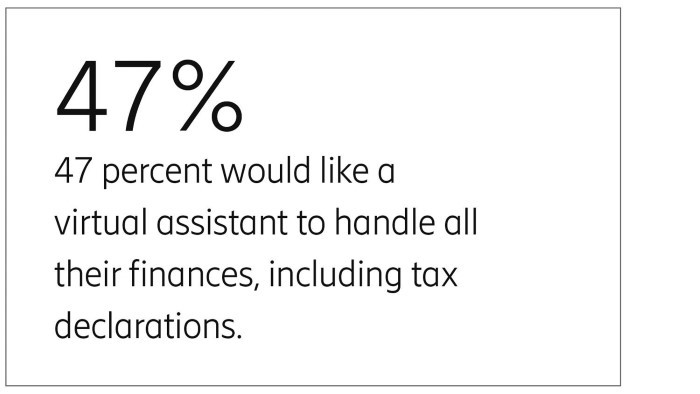 1. Awareables:
Our devices will soon know us better than we know our devices. The smartphones of today are probably the smartest device in our houses. What if our devices could act and react based on our mood and emotions? 6 out of 10 virtual assistant users think that devices will understand their moods within the next 3 years.
2. Smart Quarrels:
What will it happen when we are surrounded by too many smart devices that don't necessarily "think" alike? Virtual assistants might argue just like family members do. Over 20 percent of respondents in Sydney think that different virtual assistants (Google Assistant, Alexa, Siri, etc) in their households could start quarrelling with each other, just like family members.
3. Spying Apps:
Have you ever felt you're being watched by your apps? Though there is no evidence of apps spying on us, issues like the eavesdropping bug that forced Apple to disable Group FaceTime shows how vulnerable we can be. Nearly half of us think apps already collect data about us even when they are not in use.
4. Enforced Agreement:
With an increasing number of websites wanting to collect our information, browsing the internet can feel like a real chore, causing consumer fatigue and mistrust on the whole browsing experience. Almost half of polled consumers say that having to agree to data collection when visiting different sites makes these agreements feel enforced and worthless.
5. Internet of Skills:
Using AR/VR to structure reality will let us instantly master almost anything. The Internet of Skills will democratise skills in the way the internet has democratised knowledge. Almost 50 percent of Sydney respondents would like a pair of glasses that are aware of the task at hand and let them repair almost anything in their households by giving on-screen instructions.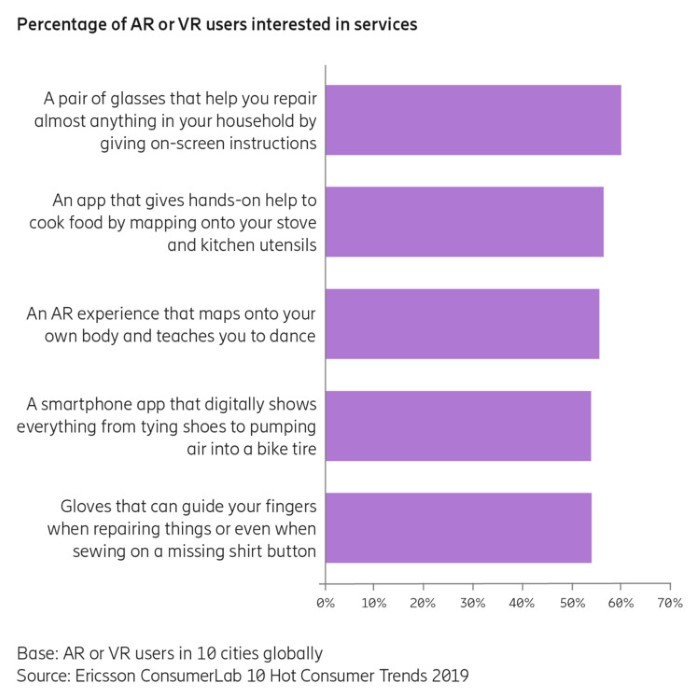 6. Zero-touch consumption:
People are increasingly expecting new technology to automate the boring elements of life, and in the process, hopefully allowing them to spend more time on more interesting things. Virtual assistant users would like to fully automate many boring aspects of consumption.

7. Mental Obesity:
Some would argue today's screen age has made us lazy as we aren't required to move as much. On the other hand, smart devices of today might help us to keep a closer look on our health and take pre-emptive action when required. But here's the issue: we may be on the cusp of physical laziness spreading to our minds too. 25 percent of Sydney users believe virtual assistants will eventually make life so convenient that people may have to go to "mind gyms" to practice thinking.

8. Eco Me:
Do we want apps that measure our carbon footprint? People are increasingly connecting their own health to a healthy environment. As a result, 25 percent of respondents would like an eco-smartwatch that measures their daily carbon footprint.

9. My Digital Twin:
AR/VR users believe life-like avatars are coming soon. Even more, over 30 percent of users polled in Australia believe that digital avatars will mimic their faces so well that there will be no difference to looking in a mirror.

10. 5G automates society:
Smartphone users across 50 countries have high expectations of 5G not only to mobilise but also to support automation in a variety of ways.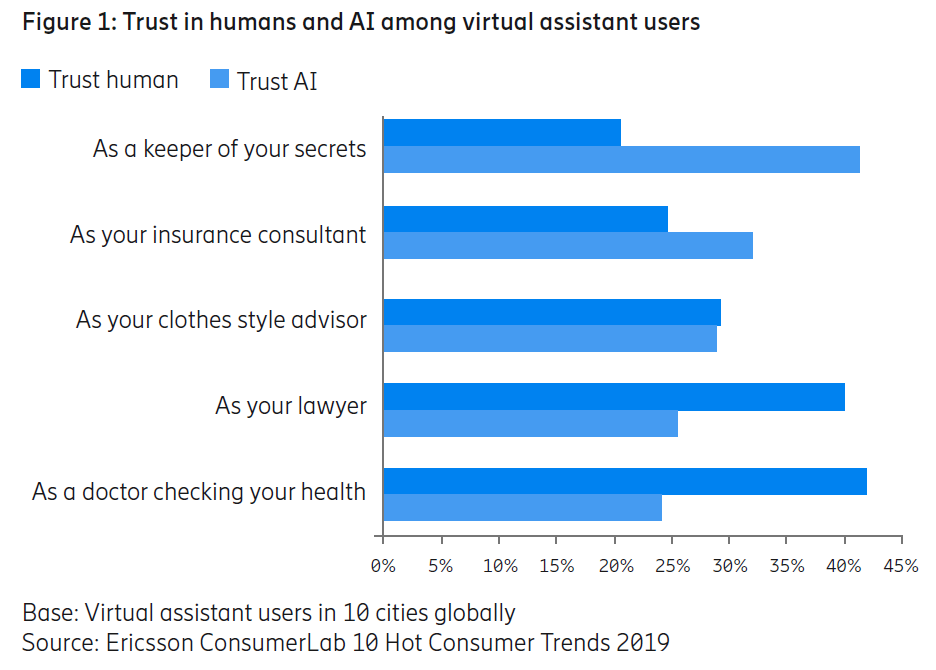 You can read the full report here.