Telstra Wholesale announces content partners for 2018/19
---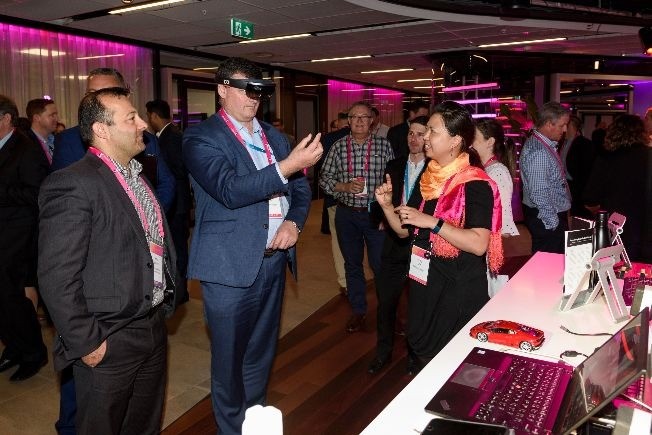 Content partners in action: The DXC Technology stand in the Partner Zone at the Telstra Wholesale Business Connect 17 event
Telstra Wholesale (TW) has extended its content marketing partner program deals with five key partners for the 2018/19 financial year. These 'content partnerships' with expert technology companies give Wholesale customers deeper industry insights, as part of its Wholesale Connect insights program.
The key partner program companies are all valued vendors of Telstra Wholesale and leading ICT innovators. Through the partner program they share their research and insights with Telstra Wholesale customers through events and business research, articles and content, delivered digitally to TW customers. The insight-led program aims to deliver actionable insights to power TW customers' businesses.
The content program partners for 2018/19 are:
DXC Technology (Platinum Program Partner)
DXC Technology is the world's leading independent end-to-end IT services company, helping clients harness the power of innovation to thrive on change.
ADVA Optical Networking (Gold Program Partner)

ADVA Optical Networking is a company founded on innovation and driven to help our customers succeed. For over two decades our technology has empowered networks across the globe. We're continually developing breakthrough hardware and software that leads the networking industry and creates new business opportunities. It's these open connectivity solutions that enable our customers to deliver the cloud and mobile services that are vital to today's society and for imagining new tomorrows. Together, we're building a truly connected and sustainable future. For more information on how we can help you, please visit us at: www.advaoptical.com.

Ericsson (Gold Program Partner)

Ericsson is a world leader in communications technology and services with headquarters in Stockholm, Sweden. Its organization consists of more than 111,000 experts who provide customers in 180 countries with innovative solutions and services. Together they are building a more connected future where anyone and any industry is empowered to reach their full potential.
Infosys (Gold Program Partner)

Infosys is a global leader in technology services and consulting. Infosys enables clients in 45 countries to create and execute strategies for their digital transformation. From engineering to application development, knowledge management and business process management, it helps clients find the right problems to solve, and to solve these effectively. Infosys' team of over 200,000+ innovators, across the globe, is differentiated by the imagination, knowledge and experience, across industries and technologies, which it brings to every project it undertakes.
KJR (Ecosystem Program Partner)

KJR is a technology-focused strategic advisory firm, that delivers. Founded in 1997 as the uncertainty of Y2K loomed worldwide, KJR remains in the trenches over 20 years later. With over 100 consultants working to advise, deliver and enable technology advancement in organisations across Australia, KJR is on a mission to think further for its clients.
More insights for Wholesale customers
Glenn Flower, GM Brand, Marketing and Communications at Telstra Wholesale, said: "We have invested in programs to build a valued industry ecosystem, which delivers world-class events and insights to our customers. Once again this year, we have given strategic experts the opportunity to share their insights.
"We are very pleased that our partners have taken the opportunity to join us in this second year, and look forward to sharing their expertise with customers throughout 2018/19, on this website and at our customer events."
To receive the monthly Wholesale Connect industry update, please subscribe using the form below.