Agile and human-centred design in action
---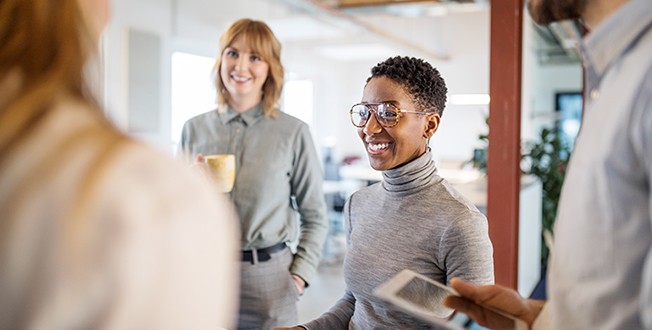 As businesses look to update their ways of working, we examine practical applications of human-centred design and agile.

As organisations strive to become more nimble and customer-focused, teams of all types and functions are adopting new ways of working. At Telstra, our T22 strategy embeds the principles of agile-at-scale and human-centred design across our entire business.
While agile practises and human-centred design each have a different origin, they have common values focused on human needs and fostering responsive, innovative iterations.
Whether your team is already applying these concepts or has yet to experiment with them, grounding your understanding in practical examples can help with everything from achieving buy-in for trials to company-wide adoption.
Agile working
Being Agile means using the Agile principles and values to select practices and tools that will make an organisation most effective in delivering value to its customers. However, even the best practices and tools degrade over time, so agility requires constant feedback and iteration to ensure continuous improvement is effective in the long term. The same principle applies to our products and strategies. For example, instead of lengthy strategies that span years and treat customer needs as mostly static, an agile model helps products go to market faster and then allows teams to constantly refine those products against customer feedback.
Modern organisation models often aim to dislodge wasteful processes and highly structured silos, relying on cross-functional teams that work across organisations to achieve a specific mission. In our own business, this includes a customer-centric structure that emphasises quarterly priorities for teams and inverts the usual organisational hierarchy.
"Regardless of where we sit in the organisation, we all recognise that our customers are our reason to come to work," explains Diego Castellanos, Group Agile Coach at Telstra Wholesale. "So we have created strategies to address customer's needs, which are then owned and executed at all levels."
"In practice, this means forming teams based on whichever skills and experience are necessary for accomplishing defined missions. Organising teams by mission helps us ensure we're focusing on our customers at every step."
What it looks like in action
For Telstra's fixed broadband retail offering, the business offers a hybrid modem with a walk-out-working plan and automatic failover. With over 50,000 set-ups a month relying on self-installation, it's critical to get the user guides right – and different types of installation require different guides.
"We established an agile mission to focus on each self-installation guide over several two-week sprints with daily check-ins," Justin Caswell, Product Owner at Telstra Wholesale. "It started slowly at the very start but then saw us quickly refining the content based on live customer feedback."
"The outcome was 900,000 devices being installed with lower inbound call volumes, along with really positive customer feedback on the setup experience and user guides."
Human-centred design
Similar to Agile, human-centred design is a process that aims to encourage greater responsiveness among teams by anchoring them in the customer need. While the two do overlap and complement one another, human-centred design has a specific focus on how we understand and solve problems from the customer's perspective.
The process shares some of the same core principles as any good attempt at understanding our fellow human beings. Empathy and curiosity are critical, as is being open to unexpected sources of ideas or answers that may challenge our initial assumptions.
In practice, the process begins with a problem – for example, a customer need or complaint – and explores as many potential causes as possible. Instead of making assumptions about the real problem, "kicking the tires" can help assess whether there are any related or underlying issues that require their own solutions.
Once a problem is identified, teams move into ideation, producing everything from obvious solutions to off-the-wall hypotheses. From there, ideas are whittled down to the strongest contenders and, after implementation, can be continuously tested according to how well they solve the problem or meet the stated need.

Putting it to the test
We put this process to the test at Telstra Wholesale Business Connect19. Groups tackled specific challenges experienced by different mobile customers. One group was tasked with improving a retired couple's experiences across online and in-store channels. Regularly on the road in their caravan, the hypothetical couple found it hard to re-charge online but were equally confused in-store.
The group began by testing the issue and decided the couple needed fewer experiences with the business, not just better ones. Instead of putting the burden of learning new information onto the customer, the couple needed a solution that freed them from recharging altogether.
After evaluating a creative mix of ideas, from educational brochures to the more radical (and expensive) proposal to helicopter in a dedicated recharge assistant, the team agreed two solutions were strongest: setting up a post-paid plan for the couple, as well as potentially re-introducing recharge via SMS.
In the real world, providers can implement and test these solutions with live customer feedbac. They can then refine them quickly and increase the value to their customers using an agile framework.
Making approaches work for you
Agile and Human Centred Design can complement each other effectively to help service providers keep pace with evolving customer expectations amidst a highly competitive landscape. Ultimately, it's up to your business to find the specific practices and tools that work best for your circumstances, and they should be adapted according to your goals and customer needs.
Applying these approaches to your own business needs can be the best way to get the ball rolling. Use human-centred design to ideate a solution to a challenge that your customer is facing, then use Agile principles to help you deliver solutions iteratively, thus maximising your speed to market and value realisation.