TV Chef Luke Nguyen: finding trusted partners supports business growth
---

Luke Nguyen, one of the world's leading chefs, told an audience of Telstra Wholesale customers how he relies on trusted partners to help him grow his global restaurant and broadcast business.

Luke Nguyen achieved his dream by opening his first restaurant at the age 23. Red Lantern has gone on to become a globally recognised Vietnamese restaurant, but it was only the start for Luke. Since then, he has opened restaurants around the world, produced his own TV show, which is now sold to networks in 160 countries, and published a number of best-selling cookbooks. Luke's success hinges on the strength of his personal brand, and standards need to remain exceptional in every part of his business. How does he find the right team to support him in all of his endeavours? At this year's Market Connections Forum Luke gave us his insights on how he finds partners to trust.

Running a business from the road
Luke's sprawling business empire means he has to spend a lot of time away from his restaurants. He spends months scouting out locations, stories and dishes for his TV show, for example, so by necessity he has to delegate responsibility to others. "When I started Red Lantern, I did everything myself from painting to the cooking, of course. But as the number of restaurants grew, and I got involved in producing my TV show, I simply couldn't be in all the places I needed to be at any one time," Luke said. "For me, I had to find people I could trust to run things to my high standards while I wasn't there."

It is a challenge that many business leaders, particularly in small and medium sized enterprises can identify with; the urge to retain hands-on control even while the scope and scale of their responsibilities grow.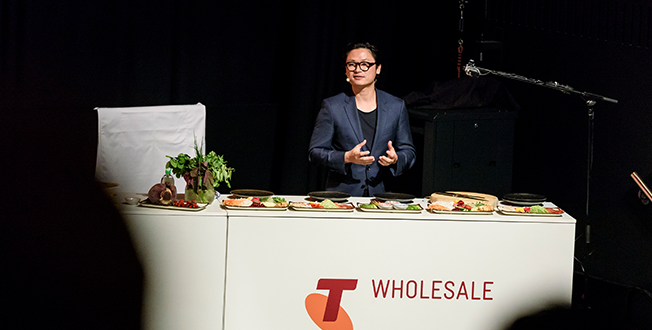 How Luke chooses his team
"Nearly everyone in Vietnam can cook but cooking as a career is not that common so good staff are hard to find. During the interviews, I asked them to prepare a dish that they would serve to their mothers or their family. And while they were doing that I asked them to tell me the story about the dish's origins."

Luke wants people who share his passion and who have a clear vision for what they want to achieve. By getting candidates to tell their stories and explain their thinking during the meal preparation, he not only knows they have the skills but he also understands what motivates and inspires them.

It is a lesson that anyone in business, regardless of sector or industry, can learn. Long-lasting partnerships are based on a common understanding of each participant's objectives. Only then can the partners work together effectively towards a shared purpose.