Transitioning to growth on the nbn™
---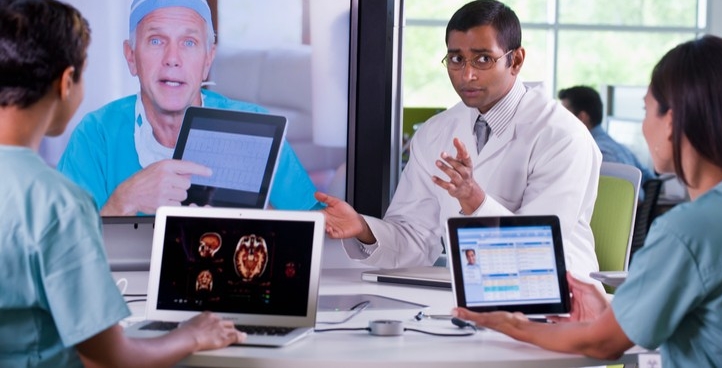 How Telstra Wholesale is ensuring customers can thrive on the nbn multi-technology mix.
The next 12 to 24 months is an important period for the nbn™ network. It has now truly hit scale. Nearly three million premises are ready to access nbn services, with over one million now connected. The rollout will speed up, adding another 2.5 million homes ready for service by the end of 2018.
The opportunity is significant. The FY17 rollout will have a much greater metro focus as the hybrid fibre-coaxial (HFC) network comes online. Four million potential customers need to choose a provider - and this comes with challenges. End user expectations have never been higher, yet they remain intensely price-sensitive. Add in the fact that nbn co will soon increase the cost of accessing the network and it creates a challenging environment.
Sitting on the sidelines while this happens is not an option: the time to make decisions around business focus and investment is now. Providers' success will depend on their ability to monetise data demand and improved efficiency. Here's how Telstra Wholesale can help our customers achieve both objectives.
Growing revenues
nbn co estimates a 30 per cent year on year growth in demand for data. I think that is conservative. Streaming video on demand services are set to continue driving demand, and internet of things-enabled devices, home security and connected health are all set to play a larger role in daily life in the next few years.
The trend towards more Internet-connected devices will continue. It will have a fundamental impact on our customers and end users' expectations of the internet service, and therefore the products and services we need to deliver. Consumers expect to connect all of the time, wherever they are, and they want more from their connectivity.
There is a clear opportunity to upsell customers to higher network speeds. Video streaming services in particular need faster connections for a better experience. As more OTT content services move towards offering 4K content, higher bandwidths and faster speed will be essential.
The number of connected devices in each home is also on the rise. Telsyte predicts the average Australian household will have 29 devices connected to the internet by the end of the decade. I counted 17 in my home and I don't consider myself to be an early-adopter or gadget addict. As more devices connect to the home web, there is the opportunity to offer better performance to the end user through better network speeds. Latency and reliability will also be a vital selling point as we conduct more of day-to-day life online.
The nbn MTM will extend our Broadband and Voice products to include HFC as an access technology. It will grow customers' addressable footprint, particularly in metro areas. We are also empowering our customers to address new markets in the business sector. Here's a snapshot of our current thinking: Telstra's Business Voice solution will come to the Wholesale channel. The first round of technologies will include an SIP Broadband solution delivering multi-line voice and data. We will enhance our Ethernet services over the nbn network to enable our customers to provide end users with business-grade connectivity and speeds of up to 40M/40Mbps.
In broadband and mobile, Telstra's Content Delivery Network (CDN) will enable customers to provide a better content experience. Our CDN has dual points of presence in all capital cities, the result being that CDN delivers content more effectively, with lower latency for a smoother experience when streaming content, and at lower cost. Customers will also see the benefit of the $100m investment we are making in our core network in FY17 to increase reach and resiliency, and reduce latency.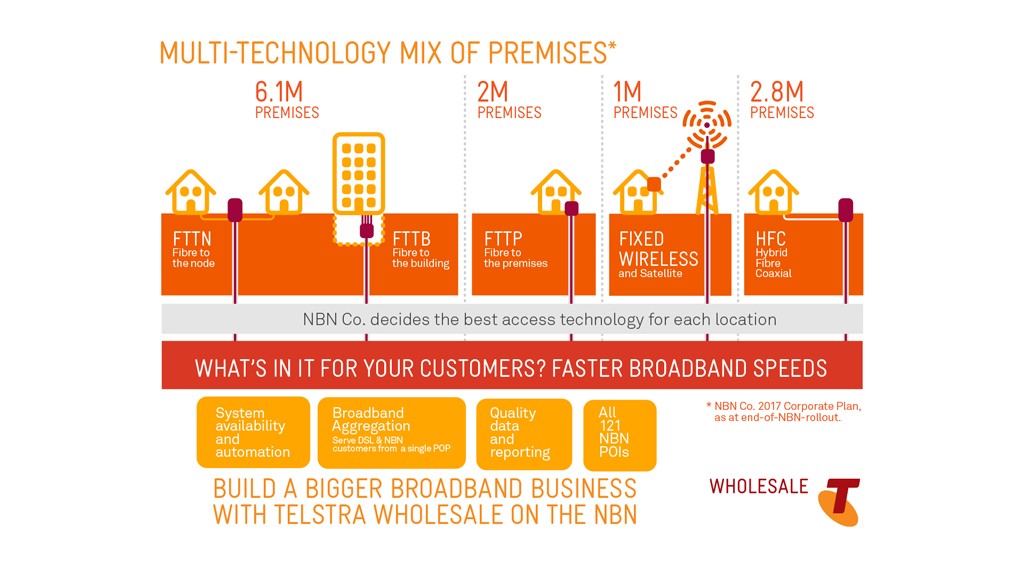 Driving efficiency
The other half of the success puzzle is efficiency. We need to be smarter about how we work so that our customers can minimise their own costs.
We have already brought in solutions to improve efficiency. We delivered broadband aggregation, enabling customers to aggregate DSL and nbn end user traffic over a single physical access at a single Point of Presence (PoP) in a state of choice or to several state-based PoPs, depending on their needs. Our solution delivers a consistent aggregation solution for services via DSL and nbn networks, making the transition to the nbn network easier for customers and their end users.
Our customers get the benefit of accessing all 121 nbn Points of Interconnect (POI) through Telstra Wholesale. It means customers can scale their businesses quickly and more efficiently than if they had to negotiate access to POIs individually. The efficiencies from leveraging Telstra Wholesale's footprint will continue to grow as the multi-technology mix progresses through the nbn rollout.
We are investing in support services that are a key part of the product experience for our customers and their end users. We are targeting November 2016 for our port and transfer services. These will improve the experience of end users moving to the nbn network by reducing the complexity involved.
Continuity performance is also a focus for us. We are working on improvements to response times for continuity provisioning and fault enquiries.
Finally, we are investing in a strategic nbn platform to support all channels to market. We're striving to be completely digital with APIs available to enable automation of all processes. We are targeting initial release for Q3 FY16 and we will work with customers to iterate on the platform to deliver further efficiencies.
Working together to make nbn work for everyone
As well as our own product and service development, we are heavily involved in the nbn product forum and advocate for outcomes that are right for our customer base.
As the nbn network reaches a critical phase of its rollout, and its effect on our customers becomes even more apparent, Telstra Wholesale is ensuring that all players can transition to growth.
read our updated Multi-technology mix whitepaper - Powering growth in an evolving nbn environment.
nbn™, nbn co, and other nbn™ logos and brands are trademarks of nbn co limited and used under licence