Meet the entrepreneur who's using brand new technology to share stories from the world's oldest culture
---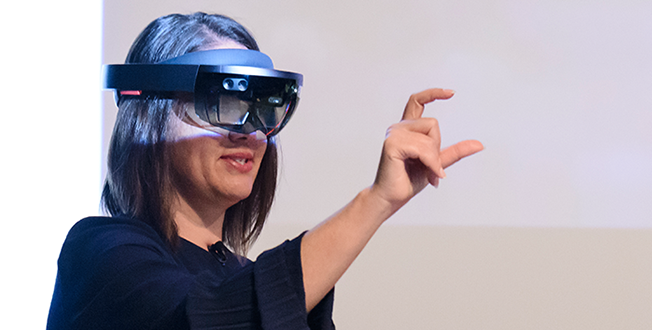 In a moving and inspiring presentation to Wholesale customers at the recent Market Connections Forum event, entrepreneur Mikaela Jayde explained how her passion for telling Indigenous cultural stories led her to Augmented Reality (AR) technology.
Kakadu National Park in the Northern Territory is famous for many things: stunning scenery, Indigenous culture and crocodiles, to name a few. One thing it is not known for is its technology startups, yet the park is the perfect home for Indigital, a business founded by Mikaela Jayde to use technology to tell aboriginal cultural stories in new ways.
The story of Indigital starts with Mikaela playing among the petroglyphs of Ku-rin-gai National Park in New South Wales as a small child, unaware of her own indelible con-nection to the aboriginal artists who carved the figures in the rocks. In a life-changing discovery at the age of 29, Mikaela found out about her own indigenous heritage. Soon afterwards, while working at the University of Canberra's Faculty of STEM, she saw AR in practice for the first time and immediately thought of how it could bring those petro-glyphs to life for a new generation of Indigenous Australians.
"I dropped everything to pursue this crazy idea that was so abundantly clear to me in that moment. Imagine going to the petroglyphs I used to trace my fingers over as a child. Imagine holding your phone over the artwork and having it come alive with its true story told by the right Elder?" she said.
Mikaela began developing the idea of using AR to bring indigenous pictures and places to life. Viewers look at them through smartphones or AR headsets such as Microsoft Ho-loLens. Getting to this stage has been fraught with difficulty, and plenty of people ques-tioned whether it could be done.
"Developers in Australia told me I was crazy. They told me Aboriginal people didn't use technology. They told me augmented reality would never work outside." she said.
"In places like Kakadu, many, if not most, Indigenous people have no access to the inter-net and little exposure to technology. But they are our target audience. If our apps don't work in places like Kakadu, then we aren't getting them right." said Mikaela.
Investors were also wary. "I'm Indigenous. I'm female. I operate a tech business from a remote part of Australia, and I have no tech background. I studied biology rather than coding. Investors said I was high risk," she told the MCF audience. "I applied for a grant to try to develop this idea and received less than a quarter of the funding I would need to develop it."
Determined to push ahead with her idea, Mikaela cold-called developers around the world to find a partner with whom she could collaborate. She finally received a positive response from Jason Higgins at a company called hARmony in the UK. They worked for 18 months together, day and night, to build a prototype application. During this time Mikaela worked with local Aboriginal people to craft the artwork that would bring their stories to life in augmented reality, while she also learned a lot of new things.

"I would run down to the rock in -7 degrees at 6am in the morning to try to get more photos to add in to the photogrammetry 4D model. Jason would 3D-print the site back in the UK and try the app on the mini-model, I'd jump on Skype at 2am to learn basic code with them to tweak the model until it triggered," Mikaela said.

"He ended up teaching me what he called 'the dark arts of augmented reality'. I would learn 4D photogrammetry, point cloud development and image recognition in those 2am sessions that often saw me crawling into bed at 5am, and getting up to my 'day job' two hours later. He learned about cultural IP and the oldest living culture in the world. It was a beautiful partnership."

However, even as she was making good progress a new challenge emerged: Mikaela's partner refocused their business on Virtual Reality development and away from AR, just before her presentation to the Collision Tech Summit in New Orleans. Rather than drop out, she went on stage and soon after met representatives from a Bangalore-based de-veloper who have helped her create the Indigital Storytelling app. Since then more part-ners have come on board and Mikaela now works with Microsoft to bring the full story-telling experience to the HoloLens mixed reality platform.
As her business has grown, Mikaela has used her platform to help increase the number of Indigenous people, particularly women, involved in the technology sector through training programs and mentoring aspiring founders. She is also working with tourism agencies to rollout the storytelling experience more widely so that indigenous cultures are better represented to visitors. And her own aspirations continue to grow: "I'm really excited about the possibility of using AI to translate Indigenous languages as we speak them. We have the world's oldest living languages and I want to see them continue to be spoken for a long time."
It is that passion for Indigenous culture that has helped her overcome all the barriers she has encountered so far. That passion has been rewarded by the response to her app among her target audiences.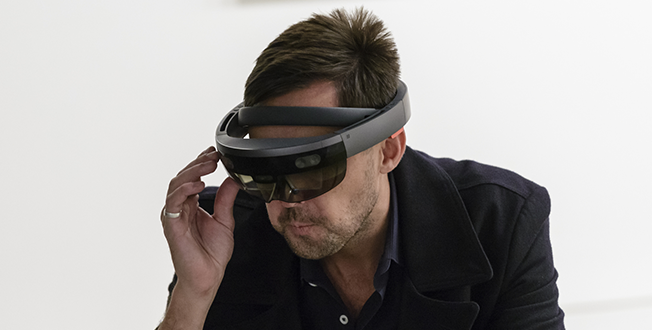 "Technology enables us to bring cultural places, cultural artworks and cultural objects to life."
"Right now, a lot of our elders are struggling to connect with young people. I see tech-nology as building a bridge between generations in our communities and between our communities and all other communities." Mikaela explained. "Technology enables us to bring cultural places, cultural artworks and cultural objects to life. Our elders get to share their stories with younger generations, and young people get to experience and engage with their culture in a way that also reflects the world they live in now. When they see spirit figures and the stories overlaid on places they know, they become more interested in the story. It is as inspiring for them as the petroglyphs were for me all those years ago. I'm hopeful this helps ensure these tales, told for thousands of years, will continue long into the future."
Mikaela concluded her story with her advice to anyone who wants to follow their passion and make their dream a reality. "Our People believe the stomach is the brain of the body, then the heart, then the head", she said. "The gut decides what is right and wrong, the heart decides if you should do something and the brain engages the body to achieve it. It's called gut instinct for a reason. If you can be brave enough to follow you gut, passionate enough to let your heart decide to take a risk, and persistent enough to engage your brain to direct the rest, you can't go wrong."