Early progress in building the networks for the future
---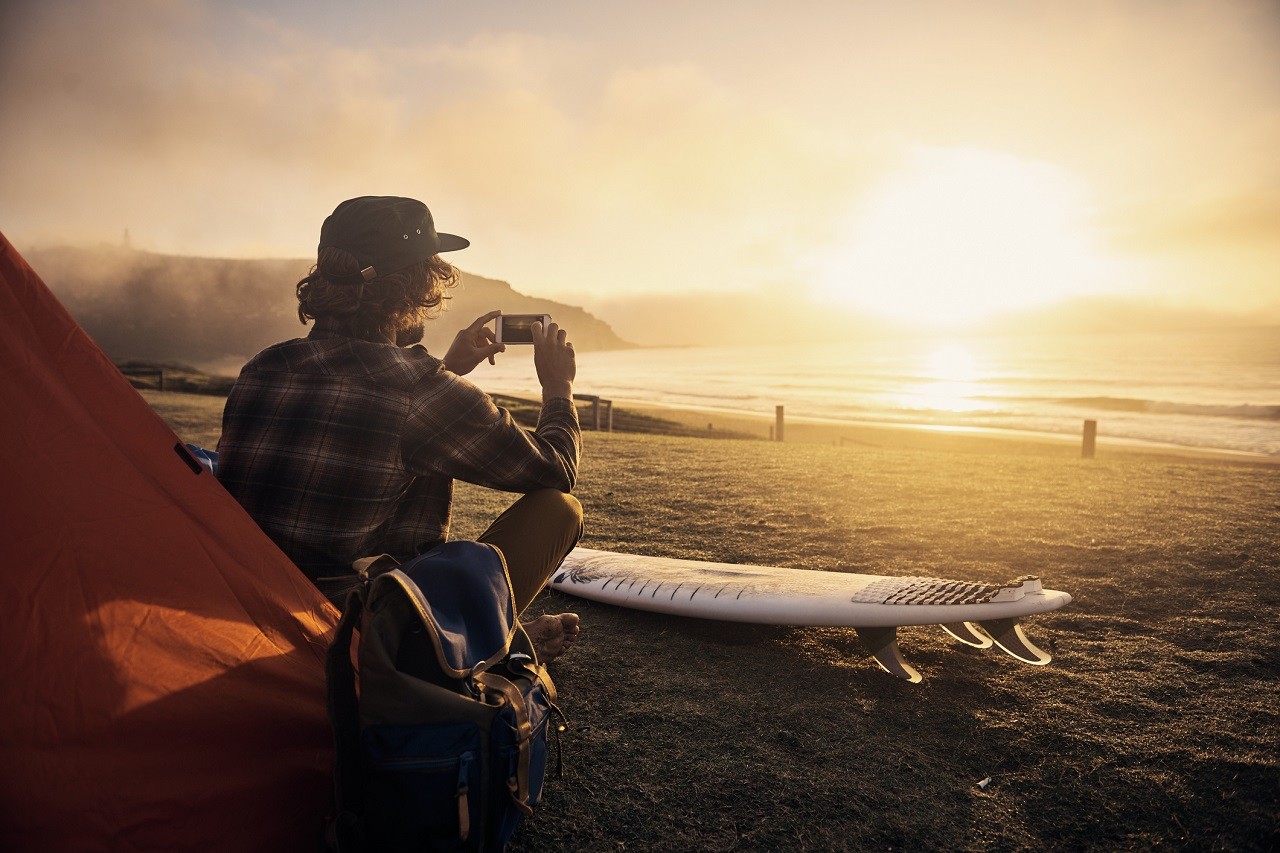 Telstra's Chief Operations Officer, Robyn Denholm, highlights the progress being made in building Networks for the Future with enhancements to the reach, capacity and capability of Telstra's networks.
With the explosive growth that is underway in the number and variety of smart devices, online services and digital applications, we are expecting five times the traffic and more than quadruple the number of devices across our networks over the next five years.
These figures sound impressive but this is about more than raw numbers. It represents connecting you with friends and family; enabling Australian businesses to take advantage of cloud computing, machine to machine communications and artificial intelligence; supporting the development of a host of new startups; and giving you control over the smart home of the future.
To make this future a reality in Australia we are undertaking a once-in-a-generation program in building the Networks for the Future. This will see Telstra build networks that underpin the way our customers work, learn and play for years to come. Networks that will usher in 5G and make the Internet of Things a reality.
With the hard work of our leading engineers, developers and technicians bringing the best technologies from around the world to Australia and collaborating with our technology partners, we have made some exciting progress on this journey. By increasing the reach, capacity and capability of key parts of our networks in recent weeks we have put the foundational building blocks in place for the connected world of the future.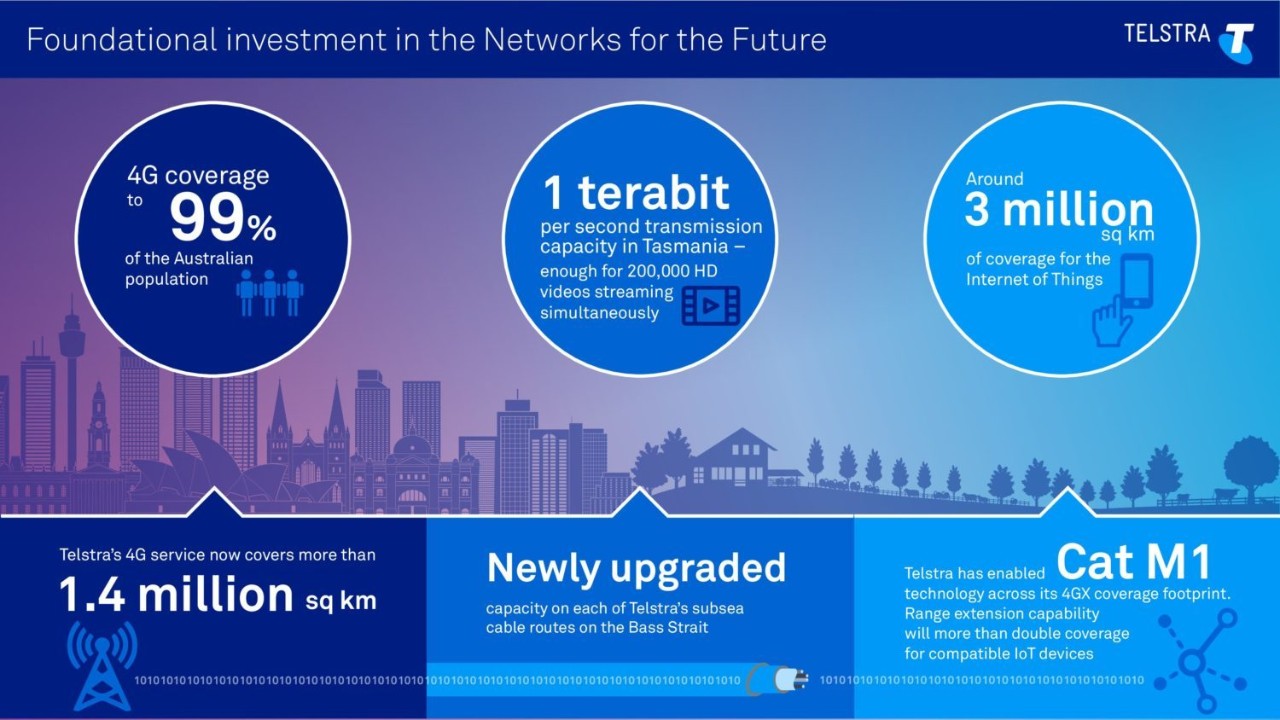 Increasing capacity
Only 20% of the capacity we are going to require on our networks by 2020 existed at the start of this year. So clearly we have a lot of work to do!
A critical part of delivering our services is our transmission network. These are the big pipes that form the backbone of our national network and support everything from mobiles and home broadband, to data for our business and government customers. So upgrading the capacity and capability of this network is a key early step in building Networks for the Future.
We are currently rolling out optical transport technology across our transmission network, which will increase both capacity and flexibility of the network as well as improve resilience.
Tasmania is the first place to benefit from this new technology. We have lit up the optical transmission technology across the state and on the cable routes running across Bass Strait. The upgrade will increase Telstra's network capacity on each of Telstra's two subsea cables running across the Bass Strait from 400 Gigabit to 1 Terabit per second – the equivalent of 200,000 HD videos being streamed simultaneously.*
Importantly, the next generation optical transport technology offers huge upside for supporting growth. With future system deployments we anticipate we can scale up to 100 Terabits per second or more.
We will now be progressively upgrading our optical transport capability around Australia, with Victoria, New South Wales and South Australia the next in line to benefit from from inter-capital upgrades.
Telstra's 4G coverage now reaches 99% of the Australian population
With new mobile sites being completed in Woongenellup, Western Australia and in Kongwak, Victoria as well as 4GX upgrades in Cardwell, Queensland and in Grace Plains, South Australia among several other towns in recent weeks, we have now expanded our 4G coverage to reach 99 per cent of the Australian population. This means more regional and remote communities than ever before have access to mobile services using the latest technologies.
We now offer 4G across more than 1.4 million square kilometres, which is more than five times the landmass of the United Kingdom and means more Australians have access to our world leading network where they live, work and play.
Australia's largest Internet of Things footprint
Telstra has activated Cat M1 across our 4GX coverage footprint, becoming the first network operator in Australia to offer the technology and accelerating the growth of IoT-based businesses and applications across the country. We will shortly deploy range extension capability which will take the Cat M1 coverage footprint for compatible Cat M1 devices to more than 3 million square kilometres.
Cat M1 enables low cost IoT devices, like sensors and monitors, to have greater reach in distance and depth into buildings. It also offers the opportunity for battery life measured in years rather than hours and days.
This is great news for a range of industries. We see this as an investment in the IoT ecosystem in Australia that will support new start-ups across multiple sectors, including agriculture, transportation, healthcare and mining. We are working with the sector to develop products and service that can take advantage of our IoT capabilities. Telstra has also commenced the rollout and testing of software that supports the NarrowBand IoT standard and we expect to enable that capability later this year.
* Based on a 5Mbps per streamed HD video
This article was first published on Telstra Exchange