Premier Technologies - Adapting to rapid change with Wholesale CTS
---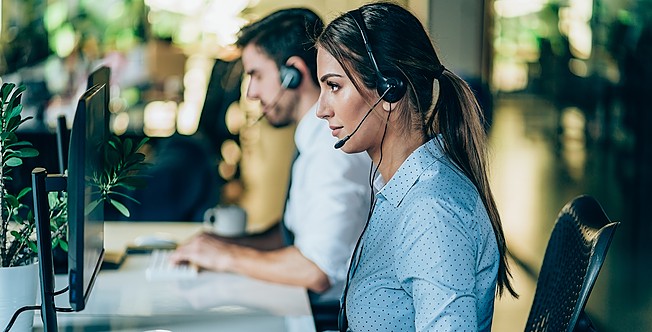 Premier is a leader in cloud-based customer contact, self-service and secure payments technologies. Premier has operated in the market for 32 years and is known for the reliability, flexibility and excellence of its solutions backed by its class leading service and support.
As one of the first cloud contact centre providers, Premier has long partnered with Telstra Wholesale for phone lines and bandwidth to connect to its customers. When Telstra Wholesale began developing a new SIP call termination service (Wholesale CTS), Premier Technologies joined the team in co-creating the solution. Executive Director Fausto Marasco and Andrew Bell, General Manager Hosted Contact Centre Division, from Premier Technologies tell us why.
The value of great customer experience
Everyone knows the feeling when they receive great customer service, and that translates into business value. One in three consumers are willing to pay more to receive a higher level of service. What's more, customers who had a very good experience are 3.5x more likely to repurchase and 5x more likely to recommend the company to friends and relatives than if they had a very poor experience.
"Contact centres are where some of business' most high-value interactions with their customers take place," Andrew Bell explains. "At Premier, our customers depend on us to help provide great customer contact experiences."
That means providing a solution that's easy to integrate into customer systems, with highly intuitive agent interfaces and the suite of administration tools for easy configuration, even for non-technical users.
But the system is not the only reason customers choose Premier. "We pride ourselves on the support we offer customers. We provide a full service to keep the relationship throughout the lifecycle and beyond the installation," Fausto says.
The need to flex
Contact centres have depended on connectivity and telephony at scale for many years now, but Andrew says the demands from customers are changing.
"Customers in the cloud world have progressed way past the old way of doing things. Customers want a lot more flexibility. They want to scale up and down as their business changes. We take a flexible approach to solving our clients' often complex issues and to do that, we need a partner who shares our ability to adapt," Andrew explains.
Premier wanted a flexible solution which could enable them to cost effectively install a base of voice services then flex it up and down as needed. And this is where Wholesale CTS came in.
Co-creating Wholesale CTS
"We engaged with the Telstra Wholesale team to shape the development of the product. The collaboration was great: we wanted to see some extra features in the product, such as additional IPs allocated to our service for load balancing and failover, and we came to a compromise with the TW team."
"The Wholesale CTS construct was also very appealing. We could scale the volumes up and pay per the number ranges; this gives us a lot of flexibility."
Proven results
The resulting solution has changed Premier's business approach, in time for the major market disruption caused by Covid-19.
"Many organisations had to scramble to set up virtual contact centres accessible to staff working from home." Fausto says. "With Wholesale CTS underpinning our solutions, we introduced a rapid onboarding service to set up customers within 24 hours where we had pre-provisioned capacity. We also moved from an agent-based limit to virtually unlimited calls.
"We have seen a number of new client wins because of our new approach. We'll enhance and adjust our services in line with the market expectations but ultimately this is how we'll operate from now on. We compete against some of the biggest names in cloud contact centre, including global giants, so the ability to flex in response to our customers' demands helps us maintain our competitive edge."
Fausto says the relationship with Telstra Wholesale has been founded on support.
"Just like our customers appreciate our expertise and technology knowledge, it's important to us to access people who know what they are talking about who have a great scope and depth of knowledge.
"It is this kind of relationship which helps us continue to be responsive in the market so we can deliver better experiences to our end customers."